Skip Navigation
Website Accessibility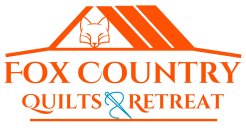 Pro-Stitcher Academy * Longarm Quilting Academy
CLASSES * QUILTING SERVICES * LONGARM RENTALS * QUILTING SUPPLIES
Longarm Quilting Services
---
Please be patient with us! We are still working on this page.

When you have finished your beautiful quilt top, the next step is to send it to Chip and Donna at Fox Country Quilts to quilt it for you! We own and operate state of the art Handi Quilter Longarm Quilting machines (Avante, Amara, Forte and Simply Sixteen) and we are eager to help you finish your projects. We are dedicated longarm quilting specialists and are ready to receive your quilts via mail or drop off.
Our Longarm Machine Quilting services include:
Edge to Edge: A continuous quilt design that covers the entire quilt edge to edge - starting at $.03 per square inch.
Semi Custom - Edge to Edge: The central part of the quilt uses and edge-to-edge design, then finishes with separate border and corner designs. Prices start at $.05 per square inch.
Custom Quilting: You pick specific pantos/designs/motifs that will be quilted in your blocks and borders to enhance your quilt. Prices vary depending on intricate details.
Free-Motion: An individualized treatment for your quilt. Specific designs and motifs will be quilted in your blocks and borders plus it may include echoing, stitching in the ditch etc. Prices vary depending on intricate details.
Quilt Designs and Pantos: We have popular and traditional quilting designs available to you to make your quilt exactly as you want it. Search our catalog or ask us our opinion...we are always here to help in person, phone, or email. View some of our Quilt Designs here online.

Please enter your quilt details on the form here and we will email you back with a customized price quote or if we have any questions, so we get it just right. There is also a section at the end for you to add additional comments.
Additional Services
Binding Preparation: We will prepare your binding strips and then bind your quilt.
Binding Sewn to Front of Quilt: We will sew your binding, by machine, to the front of your quilt. $.09 per linear inch.
Binding Finishing: We will machine sew the binding to the front and back of your quilt if you desire to have us complete your quilt. $.15 per linear inch.
Custom Stitching with the Longarm Machine directly into the quilt top: If you have wording, a saying or name and date you would like put directly into the top of your quilt, we can set this up also.
Quilting Preparations
Please iron your quilt top and backing.
If quilt top is directional, mark the top with a safety pin; otherwise, please remove all pins for the safety of our quilters and machines.
Your quilt top should be as square as possible.We will center and square the top to the machine and back fabric.
Backing needs to be 4" larger than the quilt top on each side (60" x 60" top would have a backing that is 68" x 68" and so on). If seaming your backing, use 1/2" seam allowance and press the seam open OR to one side.

We use Quilter's Dream Batting Natural 80/20 and 100% cotton select and Sew Fine, Aurifil, and Glide thread.






Contact Us
Please feel free to contact us with any questions, comments, or special requests you may have. Phone: 903-866-7550 Email: info@foxcountryquilts.com